Since the President's announcement regarding the future of the Deferred Action for Childhood Arrivals (DACA) program, the immigrant community throughout the nation has galvanized around DACA students as they navigate through this difficult time in our nation's history.
Whether you look at the DACA issue from a moral point of view, business point of view, or both, the key thing to remember is that we are talking about young people who want to contribute to a country they have always called home. For those of us who have had the privilege of meeting one of these young persons, they truly represent our best, brightest and most hard working.
There is no doubt that our country is better off for having these young people, as they are contributing to our nation in so many meaningful ways. According to FWD.us, the United States would lose $460 billion from the national gross domestic product, not including the billions of dollars that would not be contributed into Social Security and Medicare, if Dreamers were sent back to their parents' country of birth.
Given the severity of the current situation, it has been Voler's honor and privilege to partner with an amazing local organization at the frontlines of the immigration fight called SIREN – a Silicon Valley based non-profit works arduously throughout Northern and Central California to provide free legal assistance to immigrants and refugees in need. Since the President's announcement, SIREN's caseload has more than tripled as they are working with the resources they have to help everyone walking in through their doors.
Voler Strategic Advisors invites you to join us in standing with SIREN. Our team has been working around the clock to bring visibility to the work SIREN does and is proudly joining SIREN as a sponsor of its 30-Year Gala. This special event will highlight the work of leaders of our immigrant community, and will ensure that SIREN has the resources to fight for our DACA recipients and others in need of their help. Many individuals, organizations, and immigrant community icons like Los Tigres Del Norte, are joining this movement.
Each and every one of us has a role to play in improving our communities. In today's hyper-partisan political environment, it is easy to lose sight of the humanity of today's immigration debate, and what we can each do.
We hope that you will consider joining us. Stand with SIREN, Los Tigres Del Norte, Voler Strategic Advisors, and so many others. Let's stand up for the rights of immigrants and refugees today.
For more information about SIREN, please visit: www.siren-bayarea.org.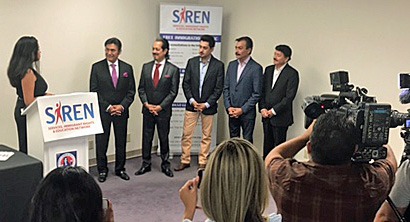 Voler Strategic Advisors brings together Los Tigres Del Norte, SIREN, and members of the Bay Area media.