With so much of our company focused on providing support for social impact projects and encouraging volunteerism in the community, we are often asked why we spend so much time on public service.
At Voler Strategic Advisors, public service is simply at the core of who we are and what we do. It is part of our mission and values and an important element of our team's shared credo.
This alignment is not only empowering, it also elevates our ability and perseverance to problem-solve real world challenges on behalf of our partners or clients.
By using our skills and experience to problem solve in the community, Voler Strategic Advisors invests in a better future for the communities we directly serve and those we touch through the cascading effect of influence and support.
In today's society, the power of connectedness cannot be overemphasized. Furthermore, there is a multiplicative effect of individual and collective efforts.
Imagine a world where everyone used their skills to assist those around them in need of support. How much better would our communities be? Our schools? Our health care systems?
As a company, we invest in college scholarships, social causes, and volunteer with local sports teams because doing so makes a difference in our community.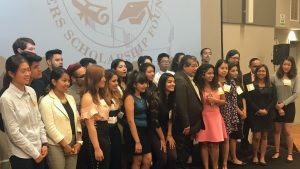 Bay Area Gardeners Scholarship Foundation event on July 8, 2017, where Voler Strategic Advisors sponsored scholarships. 
In this current climate of national division, it is important to remember that, regardless of political affiliation, there are social problems that with even a little bit of investment of time and/or resources, we can assist in moving an inch closer to an eventual solution.
As difficult as times may feel, all of the major changes in our world started with a single action. This is perhaps the most powerful idea and reminder of the power of people.
Regardless of the issue, your presence will already be a major step towards a solution that will benefit us all.