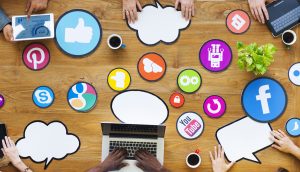 In today's communications environment, there is no doubt that social media plays a major role in how brands communicate with their intended audiences.
Notwithstanding, it is important to make a distinction that social media is simply a communication tool, not a strategy. Understanding this premise is foundational to realizing goals and avoiding common pitfalls.
---
Key Points:
Social media tools require big picture thinking and day-to-day management.
Your usage of social media will drastically benefit if the brand image and messaging are directly connected to the organization's master narrative.
Furthermore, successful social media campaigns recognize the deliberate and inherent amount of legwork to position the organization's social media sites on the best path for success.
With so many social media products available today and many more emerging, one must think about whom these tools predominantly reach and how best to leverage the technology.
A frequent mistake is to want to employ every single social media platform that is in existence. Although a noble and ambitious goal, this approach tends to work well if you are a world famous athlete with millions of followers and abundant resources!
For most individuals and organizations, quality of messaging is more important than the diversity of social media tools employed.
Diversification is not discouraged; however, it may be a better use of resources to first gain insight into why you are experiencing success with one platform. What is working? What could be improved? And, is your success transferable to another platform?
Even if you have a Facebook page with a tremendous following, that doesn't necessarily mean you should want to have "x" more sites.
By going through a process of inquiry, you will be better able to articulate your communication goals, identify the strengths and limitations of existing social media tools for your specific purpose(s), and determine how to make modifications to your plans to help you move forward in this highly dynamic communications and technological environment.
---
At Voler Strategic Advisors, our team of professionals has years of experience developing communication strategies that are utilized daily by organizations seeking to communicate with their diverse audiences.
We can guide you through the process of developing strategy, ensuring adequate support for rolling out social media campaign(s), and monitoring the reach and value of your efforts.
We have found that social media "done well" can be mutually beneficial to organizations and the targeted audiences, encouraging meaningful connection, engagement, and empowerment.